Комбуча (чайний квас)

© Copyright Guenther W. Frank
You are wanted!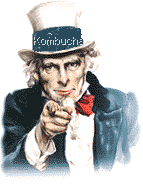 I am looking for volunteers who are willing to translate the Kombucha Journal into more languages. The Kombucha Journal is a free service to help other people: "Mutual help makes even the poor rich", as a Chinese saying goes. So I would appreciate if you could translate the texts for free. Certainly your name will be mentioned on the article that you translated. If you want I can also add your photograph.

Please send your translation to Guenther W. Frank, e-mail frank@kombu.de

---
---
The Kombucha Journal is in 30 languages :
Choose your language - Wählen Sie Ihre Sprache - Choisez votre langue:
[English] [German] [French] [Spanish] [Italian] [Dutch] [Norwegian] [Danish] [Swedish] [Portuguese] [Slovakian] [Czech] [Slovene] [Hebrew] [Iranian] [Esperanto] [Croatian] [Finnish] [Romanian] [Hungarian] [Greek] [Indonesian] [Bulgarian] [Ukrainian] [Korean] [Polish] [Russian] [Chinese] [Arabic] [Turkish]
---
---
Copyright Guenther W. Frank 2000. Permission is granted to freely copy this document in electronic form, or in print if the publication is distributed without charge, provided it is copied in its entirety without modification and appropriate credits are included. On the WWW, however, you must link here rather than copy it. Any other use requires explicit permission by the author.
---
URL of this page: http://www.kombu.de/ukrain.htm (The Kombucha Journal)
• Impressum •